The winter months are upon us, and many people wait for the cold to arrive to start thinking about HVAC maintenance (HVAC System). However, there are a number of simple steps you can take now to prepare your home for winter.
Introduction: Preparing Your Home for the Cold Weather
Homes need attention because they deteriorate quickly when they're not getting any.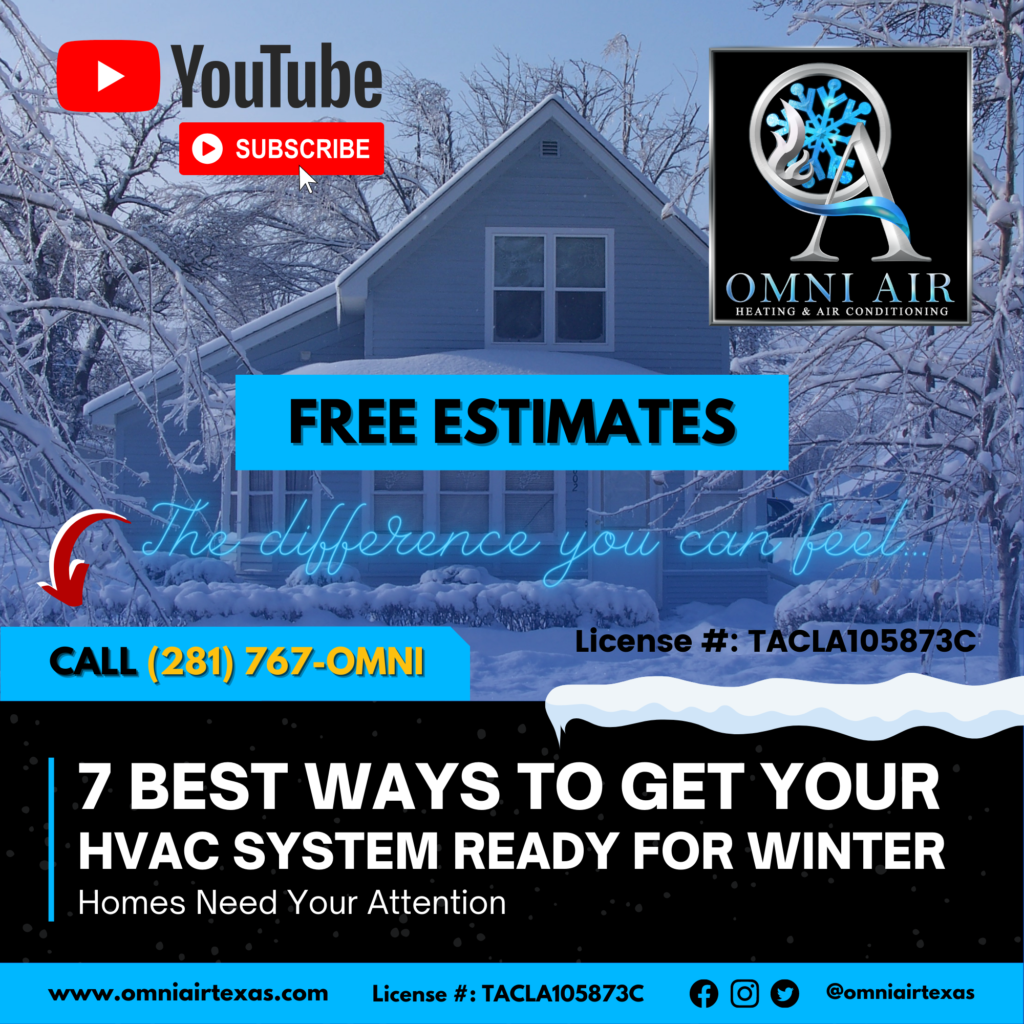 The best way to make sure that homes stay in good shape is to hire a Licensed HVAC service provider for HVAC in Montgomery TX. With a company like ours, you'll have a team of experienced professionals who will take care of Heating Services in Montgomery TX for your home so you can enjoy it stress-free.
Since heating systems often produce excess humidity, it can be helpful to install a dehumidifier in the basement. This will help keep mold away and ensure that you are staying warm in winter.
Making Sure Your HVAC System is Ready for This Season
HVAC repair service, Montgomery, TX is a necessity for every home. HVAC systems are one of the most expensive parts of a home, but they usually come with a warranty that covers repairs. HVAC system replacement cost can be prohibitive – there are many factors that contribute to the cost of an HVAC unit – including location and accessibility, size and type of system required.
Have you prepared your heating unit for the winter yet? These 8 quick tips can help:
1. Check your ductwork for leaks, closed vent grills, and contaminants.
Coming out of the dry season is a great time to check your ductwork for leaks because rodent are looking for water and your HVAC system is a good place to find some. Your condensation drain line is not the only place in your system to find water. Your ductwork can also produce condensation. And, rodents will tear into your ductwork to get to the condensation it sometimes produce if not properly installed causing damage which results in even more condensation.
Vent grills or dampers are an easy way to regulate the airflow into a desired area of your home or office but a grill/ damper that is not open will reduce most if not all airflow into that area.
If you have excessive dust or you are smelling a musty or moldy smell it is crucial that you schedule an air duct examination today to make sure the air you're breathing is safe. Having your duct work examined regularly will ensure there is no leaks, damage, blockages, or unwanted contaminants. Check out our HVAC in Montgomery TX.
2. Air filters must be checked.
It's important to check whether or not your air filter is okay and replace it on a regular basis.
Dirty air filters increase the strain your heating system will put on your furnace, leading to higher costs. You may even need to purchase a new furnace.
Before you experience a costly breakdown, schedule a professional furnace tune-up with us! We'll inspect your system and recommend necessary service to keep your heating running safely and efficiently all winter long. We also provide HVAC Maintenance Plans in Montgomery TX and surrounding areas for our members to save more this season!
Regular tune-ups are key to maintaining your system. Tune-ups can be done on a monthly, quarterly, or even annual basis. Tune-ups can help identify problems before they become serious and help your system continue to work as it should.
4. Thermostat must be checked.
Winter is almost here, and if you're living in a cold climate, you'll want to make sure your thermostat is functioning properly. When it gets too cold outside, your furnace will kick on to warm up the house. The thermostat controls when the furnace turns on by monitoring the temperature in your home.
5. Fixing the drafts around your doors and windows.
Drafts around doors and windows are a major source of heat loss and can cause your heating system to overwork and can increase your energy bill. Fixing drafty areas is not difficult, but it is important to know what the problem areas are before you start.
Drafts near windows or doors can cause your heating system to overwork and can increase your energy bill as a result. If you feel any draft coming in through your window or door, you should consider closing the window or door to prevent this from happening.
6. Cleaning the cabinet of your furnace.
Your furnace is an important part of your home. It helps you stay warm during the winter months and cool during the summer months. One way to make sure that you are taking care of your furnace is by making sure that the area around it is clean and clear of any objects or items that might obstruct air flow to it.
7. Take heed to how old your heating system is.
The efficiency of your furnace will decrease over time. This is because the furnace's filters will get clogged, causing large amounts of dust to get in the heating system. The more dust, the higher your energy bill will be. When it is time for an HVAC Replacement in Montgomery TX, call us for a high-tech and professional HVAC service you can trust.
Furnaces can last a long time if they are properly maintained. The average furnace has a lifespan of about 15 years if it is repaired and replaced as necessary. However, if a furnace is neglected or ignored, it will not be able to work properly and could break down within months or years.
Conclusion: A Complete Guide on Getting Your Home Ready and Maintained this Winter season
Avoid the hassle of inevitable home maintenance tasks this winter with these clever shortcuts. This winter, you can invite your guests into a warm and welcoming home. Stay warm and dry all through the season with these tips to rid your house of pesky leaks. Here's a list of all the tasks you can do to prepare your home for the winter season.
The holidays may be behind us, but there is still a lot to do in preparation for a cold and rainy winter. Winter is a time when we should be spending more time with loved ones at home. Act now and get our checklist for keeping your home in order this winter!
Worried about the cost? We offer HVAC Financing in Montgomery TX for our valued customers.
The winter season is coming, and it's time to prepare. Although we're in the middle of a heat wave, it won't last. The cold winter weather is inevitable. Follow our checklist to avoid problems when the snow starts to fall!
For a FREE estimate, give us a call at 📞(281) 767-OMNI now.