Is your HVAC system at risk? Are you aware that HVAC repairs can cost as much as the value of the system when it is new? Are you tired of being held hostage by unpredictable costs? To ensure your peace of mind, our OMNI AIR Maintenance Membership Plan is the only solution for you. You deserve a partner you can rely on because your family deserves a comfortable living space. Our goal is to provide the most dependable service, so you don't have to worry about being comfortable with the best HVAC Maintenance Plan in Montgomery TX.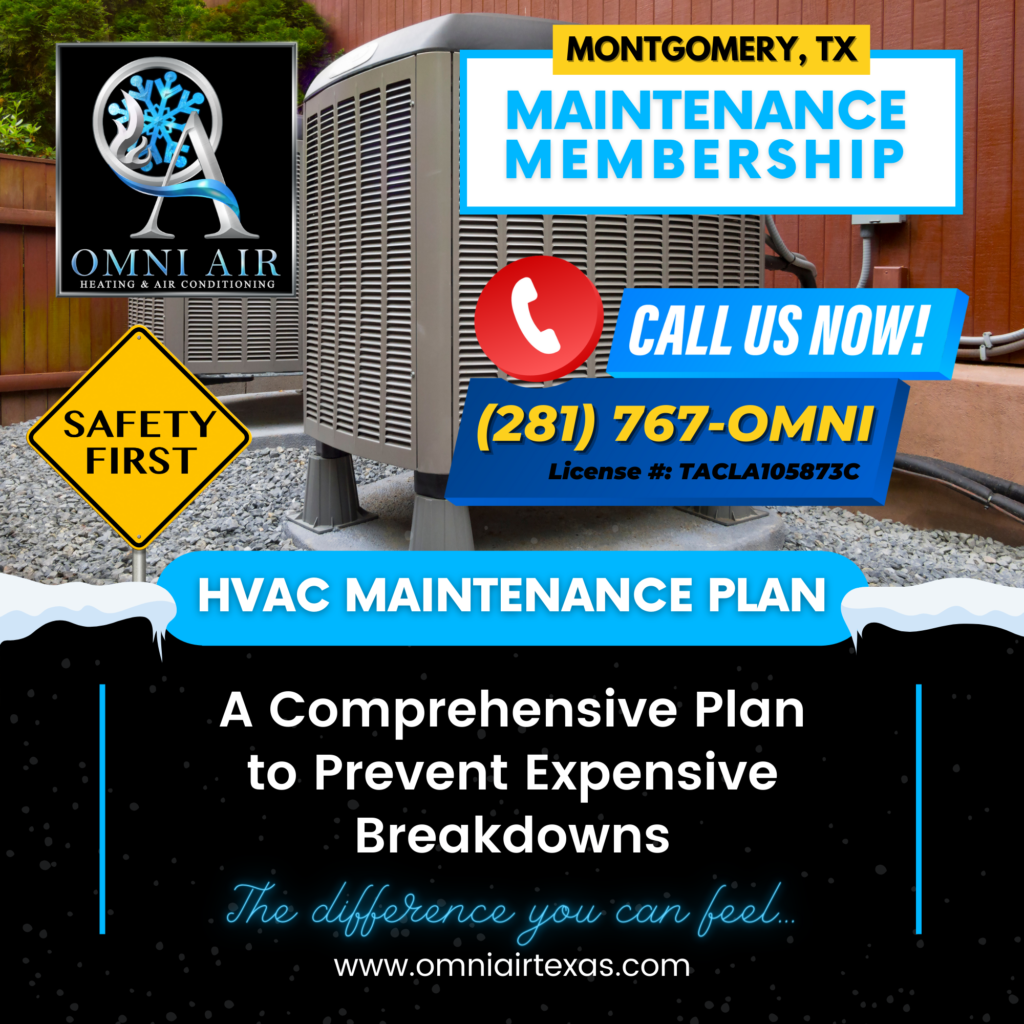 Here are the benefits that you can get in our OMNI AIR HVAC Maintenance Membership Plan:
2 Maintenance check-ups a year. One in Spring and one in the Fall.
It is important to maintain your HVAC system to guarantee it's operating at its peak performance. This is to ensure that your HVAC system will last for a long period of time without any major issues. We will check up on your heating and cooling system 2 times in a year to ensure there are no potential problems with your systems and to repair any current problems you may have with your HVAC system in Montgomery TX.
Our OMNI AIR Maintenance Members receive a 30% discount on repairs and 5% off replacement equipment. Our Members never pay for a service call again because service calls are free to our Members. The reality is that professional HVAC equipment is expensive, which is why at Omni Air, we offer a variety of HVAC repair and replacement options for your home or business in Montgomery TX and surrounding areas. The OMNI AIR Maintenance Membership offers the best value in the industry. Our OMNI AIR Maintenance Members enjoy maximizing every discount on all our services and products, so you can save time and money when you become part of the OMNI AIR Family.
Priority scheduling for quick solutions.
We will prioritize your heating and cooling problems with our quick response solutions because we want you to feel comfortable in your home. When your heating or cooling system stops functioning, it can make you uncomfortable and unhealthy. It is important to act quickly when your heating or cooling breaks down. With our quick response, we will get the heating or cooling back on in no time!
Extends your system's lifespan.
Have you been struggling with significant monthly heating and cooling bills? Have you had to replace your HVAC system due to a breakdown? Our HVAC Maintenance Plan will extend your HVAC system's lifespan. This can significantly reduce your energy bill as an added benefit.
Ensures the system is as energy efficient as possible.
Our HVAC Maintenance Plan is a comprehensive service that includes a variety of services to keep your system as energy efficient as possible. We provide tune-ups, inspections, and troubleshooting to keep your AC & heating system running smoothly.
Improves comfort.
Your home should be one of the most comfortable spaces you spend time in. We understand that your HVAC system is vital to maintaining this comfort. With our heating and cooling maintenance plan, we can make your home's heating and cooling system efficient, safe, and reliable.
Cuts down on major repairs.
We've put together a comprehensive HVAC maintenance plan that will help you to avoid costly repairs. This program is tailored to your specific needs and budget, and includes preventative maintenance as well as diagnosis and repair of major systems.
Your family's health and comfort is our top priority! One of the best ways to improve your indoor air quality is by ensuring that your HVAC system is properly maintained. We have designed a maintenance plan that suits your needs and budget.
Conclusion
Maintaining your HVAC system is essential for both your comfort and long-term investment plan. The OMNI AIR Maintenance Membership offers more than just a bi-annual maintenance visit, it provides trusted, honest advice from industry professionals who are trained to give the best options and solutions for all your HVAC needs. We do not employ any salesman and we only employ the industry's best solution based technicians.
We are committed to providing our customers with the best possible experience. That's why we provide you with an exclusive membership program, so you can enjoy complete peace of mind when it comes to your heating and cooling systems. We also offer HVAC Financing in Montgomery TX and surrounding areas.
Register today for your OMNI AIR Maintenance Membership – the best HVAC Maintenance Plan in Montgomery TX!
Call us now at 📞 (281) 767-OMNI now!