AC Repair Near Splendora TX
Looking for AC repair near you in Splendora, TX? Trust Omni Air for expert tune-ups and repairs in Splendora and surrounding areas. Call us today at (281) 767-OMNI. We offer a wide range of AC repair services to customers in Splendora, TX and the surrounding areas. Whether you need a simple repair or a complete system overhaul, we have the skills and experience to get the job done right.
AC Repair Near Me: Why Omni Air Is Your Best Choice in Splendora, TX
When you need AC repair near me in Splendora, TX, you want a company that can provide fast, reliable service that gets your air conditioning system working again as soon as possible. Omni Air is that company, with a team of experienced technicians who are dedicated to providing high-quality service to customers throughout the Conroe area.
At Omni Air, we know how important it is to have a working air conditioning system in Texas. The summer heat can be brutal, and if your AC isn't working, it can be a miserable experience. That's why we offer fast, reliable service that gets your AC up and running again as quickly as possible.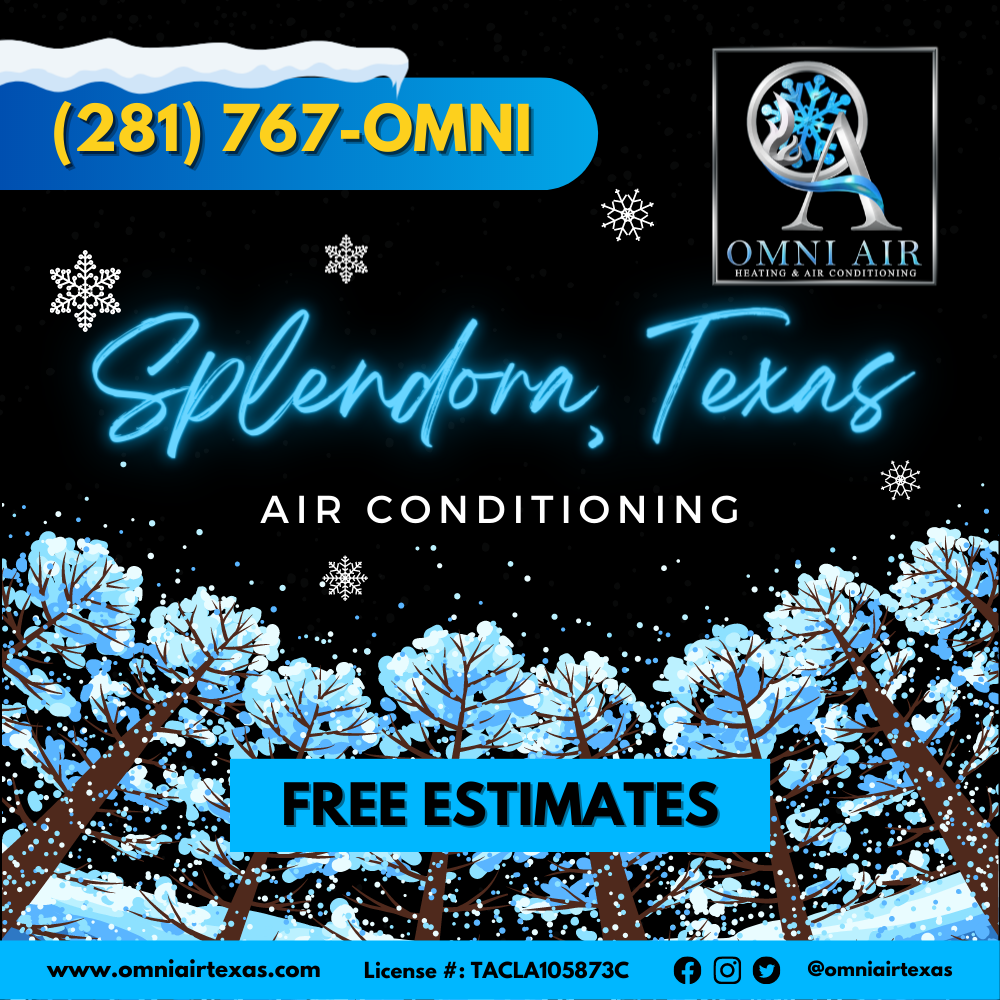 Our AC repair services include:
AC tune-ups:

Regular maintenance is essential to keep your AC running smoothly. Our tune-up services include a full inspection of your system to identify any potential problems and make necessary AC repairs.

AC repairs:

If your AC isn't working properly, our technicians will diagnose the problem and provide a reliable repair solution.

AC replacements:

If your AC is beyond repair, we can help you choose a new system that meets your needs and budget.
When it comes to AC repair near me in Splendora, TX, there are plenty of options to choose from. But why should you choose Omni Air?
Here are just a few reasons:
Experience:

Our team of technicians has years of experience working on all types of air conditioning systems. We have the skills and expertise to diagnose and repair any problem you may be having.

Fast, reliable service:

We know that when your AC isn't working, you need service fast. That's why we offer same-day service and 24/7 emergency service for those times when you need help outside of normal business hours.

Honest, upfront pricing:

We believe in transparency when it comes to pricing. We'll provide you with a detailed estimate before starting any work, so you know exactly what to expect.

Quality workmanship:

We stand behind our work with a satisfaction guarantee. If you're not happy with the service we provide, we'll do everything we can to make it right.
Call Omni Air for AC Repair Near Me in Splendora, TX.
If you need AC repair near me in Splendora, TX, don't hesitate to call Omni Air. We're here to help you stay cool and comfortable all summer long, with fast, reliable service and quality workmanship.
Contact us today at (281) 767-OMNI to schedule your AC repair service, or to learn more about our AC tune-up and replacement services. We're always here to help, and we look forward to hearing from you!
We want to help cool you down!
With years of outstanding service and hands-on expertise, we provide our customers with products and services that we trust and believe in, so that you can too.
Location
Montgomery, Texas 77356
Hours
M – F :  8am–5pm
Sat – Sun : Closed