AC Repair Near New Waverly TX
If you are living in New Waverly or the surrounding areas of Conroe, Texas, you know how important it is to have a reliable air conditioning system. Whether it's the blazing summer heat or the occasional hot day, having a properly functioning air conditioner is crucial to your comfort and well-being. At Omni Air, we understand the importance of air conditioning, which is why we offer top-notch AC repair and tune-up services to keep your system running smoothly.
AC Repair Near Me in New Waverly
If you're searching for "AC repair near me" in New Waverly, look no further than Omni Air. Our team of experienced technicians has the expertise and knowledge to diagnose and repair any air conditioning issue you may be experiencing. From minor repairs to major overhauls, we have the tools and skills necessary to get the job done right.
We understand that air conditioning problems can occur at any time, which is why we offer 24/7 emergency AC repair services. We'll be there when you need us most, ready to provide fast and efficient repairs to get your system back up and running as quickly as possible.
AC Tune-Up Services in New Waverly
In addition to our repair services, we also offer comprehensive AC tune-up services to help prevent problems before they occur. Our team will perform a thorough inspection of your air conditioning system to identify any potential issues and make any necessary adjustments to ensure optimal performance.
Regular AC tune-ups not only help prevent breakdowns and extend the life of your system, but they can also improve its overall efficiency. This can lead to lower energy bills and a more comfortable living environment.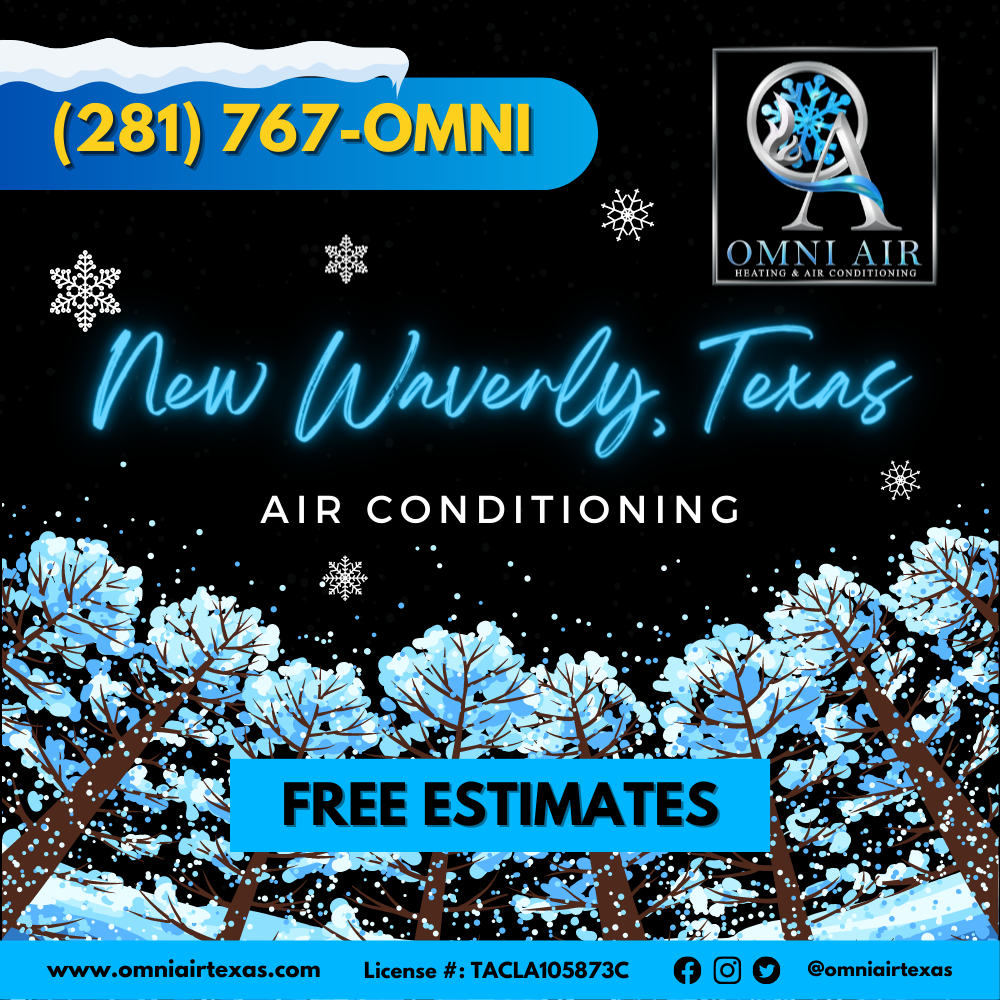 At Omni Air, we pride ourselves on providing top-quality AC repair and tune-up services to our customers in New Waverly and the surrounding areas. Here are just a few reasons why you should choose us for all of your air conditioning needs:
Experience:

Our team of technicians has years of experience in the HVAC industry and stays up-to-date on the latest technology and techniques.

Customer Service:

We believe in treating our customers like family and providing exceptional customer service every step of the way.

Quality Workmanship:

We use only the highest-quality parts and equipment to ensure that your AC system is repaired or tuned up to the highest standards.

Affordability:

We offer competitive pricing on all of our services, so you can get the AC repairs or tune-ups you need without breaking the bank.
Call Omni Air at (281) 767-OMNI Today for the difference you can feel!
If you're in need of AC repair or tune-up services in New Waverly or the surrounding areas, call Omni Air at (281) 767-OMNI today. Our team will work quickly and efficiently to get your air conditioning system back up and running at peak performance, so you can enjoy a cool and comfortable living environment all year round.
Call Omni Air for AC Repair Near Me in Conroe, Texas
If you need AC repair services in Conroe, Texas, and the surrounding areas, call Omni Air at (281) 767-OMNI. Our experienced technicians are here to provide you with the best service possible. Don't suffer in the heat any longer – call us today to schedule your AC repair appointment. We guarantee you won't be disappointed.
We want to help cool you down!
With years of outstanding service and hands-on expertise, we provide our customers with products and services that we trust and believe in, so that you can too.
Location
Montgomery, Texas 77356
Hours
M – F :  8am–5pm
Sat – Sun : Closed