If you're a resident of Egypt, Texas or the surrounding areas, you know just how important it is to have a reliable and efficient air conditioning system. The hot and humid summers can be unbearable without a properly functioning AC unit, which is why it's crucial to have it maintained and repaired by experts.
Top-quality AC Repair Near Me in Egypt TX
At Omni Air, we provide top-quality AC repair and tune-up services to ensure that your system is running at peak performance. Our team of highly skilled technicians is equipped with the latest tools and knowledge to handle all types of AC issues, no matter how big or small.
When it comes to AC repair near me, you want a company that offers prompt and efficient service. We understand that AC problems can occur at any time, which is why we offer 24/7 emergency services. Our technicians are always ready to respond quickly to your call and provide you with the necessary repairs to get your system up and running again.
Your Reliable AC Repair Partner in Egypt TX
Whether you're experiencing a sudden AC breakdown or simply need routine maintenance, you can trust Omni Air to provide the reliable and efficient service you need. Our team is fully licensed and insured, and we stand behind all of our work with a satisfaction guarantee.
Don't let AC problems disrupt your comfort and peace of mind. Call Omni Air today at (281) 767-OMNI to schedule your AC repair or tune-up service in Egypt, Texas, and surrounding areas. With our fast and reliable service, you can rest assured that your system will be up and running in no time.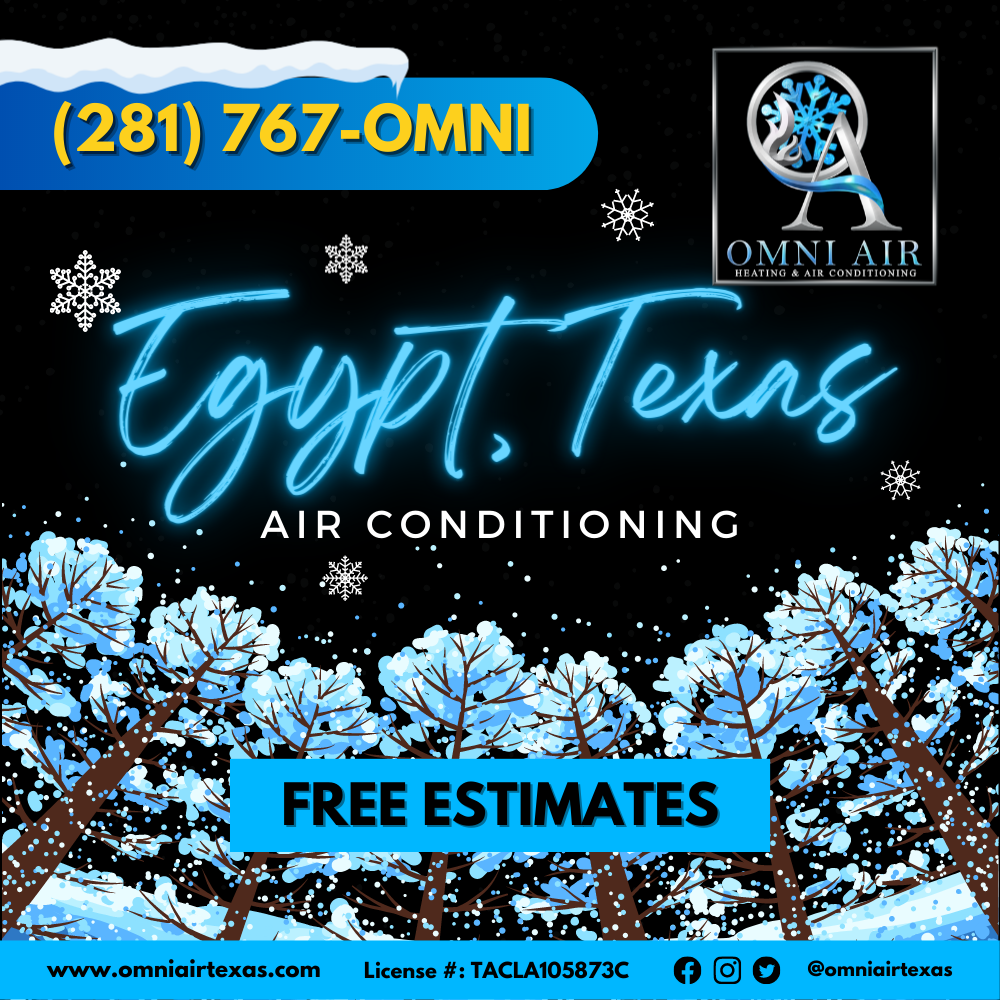 Comprehensive Tune-up A/C Services
In addition to AC repair, we also offer comprehensive tune-up services to keep your system in top condition. Regular maintenance and tune-ups can help prevent future problems and extend the lifespan of your AC unit. During a tune-up service, our technicians will inspect all components of your system, including the air filter, coils, and electrical connections. We will also clean and lubricate all moving parts and make any necessary adjustments to ensure that your system is running as efficiently as possible.
At Omni Air, we take pride in offering exceptional customer service. We understand that AC problems can be stressful and disruptive, which is why we make the repair and maintenance process as easy as possible for our customers. Our technicians are friendly and professional and will always take the time to explain any repairs or services that your system may require.
We want to help cool you down!
With years of outstanding service and hands-on expertise, we provide our customers with products and services that we trust and believe in, so that you can too.
Location
Montgomery, Texas 77356
Hours
M – F :  8am–5pm
Sat – Sun : Closed